The Remarkable Journey To The Pole Studio's 1st Birthday
Wow, what a year it has been... Let's roll back the clock to 22nd April 2018. I attended an "Entrepreneur's Seminar Weekend" in Bedford. To be honest, I didn't see myself as an "entrepreneur". The word sounds so fueled with success and ambition, and I was currently beyond tired, juggling my office job as well as freelancing teaching pole classes wherever and whenever I could. Most days I would go into work, daydream about pole all day and what it might be like to run my own studio one day. As soon as 17:30 came, I'd run out the office to jump on the train to get me to whichever studio I was teaching at that night. I taught classes all across London, often miles away! And I'd get back home late. Sleep, eat, rinse and repeat. I loved the chaos to a certain extent, but it was exhausting. And I knew I couldn't do it forever. After convincing myself it's not a totally ridiculous idea to set up my own pole school, I googled 'how-to-set-up-your-own-business'. And ended up finding this seminar. It was the Bedford seminar that gave me the confidence and belief in myself. I knew I could do it. And with the guidance from some amazing coaches and mentors, I made a plan. I cut back on all the locations I was teaching at to focus on my favourite place, the studio in the East London Gymnastics Centre. First thing on my to-do list was to have the scary conversation with the Gym Directors about stopping freelancing for them, and instead hire the studio. Luckily, they were really happy with this – phew! And so it began! Eeeek! So exciting.  I started doing some Facebook posts and ads, inviting people to try out pole so they can see what it's like. I know starting pole can be such a daunting idea, and it brings up all the self-doubt and body-confidence issues to the surface so my aim was to make the tasters as fun, friendly and accommodating as possible. Some of my students started helping out at the tasters too, and I must say I felt so much love and support from this. It melted my heart.
As more students joined, I quit my job so I could put on more classes. This was terrifying and exhilarating in equal measures. Along with teaching tricks, spins and climbs, I love to teach dance choreography. I started to get more creative with the different styles of pole choreo I'd teach such as:
contemporary,
exotic heels,
commercial,
blindfolded pole,
create-your-own-choreography,
and more advanced combos sessions.
The pole community is hands-down one of my favourite things about pole. I don't want classes to feel like you just turn up, keep yourself to yourself, do your workout, and leave. To me the pole studio is a special environment where no-one judges one another, a place to escape from the stresses of life, and to challenge your body to do amazing things. You cheer each other on, instill belief in those who don't yet believe in themselves, and leave feeling energised and totally invincible. To help get this sense of community, I set up a members Facebook group – a space to share inspiration and the antics of our pole life. Organised group challenges, we did a Christmas Showcase (it was aaaamazing), went to see World Championship Pole Shows, and had Pole Team Days Out.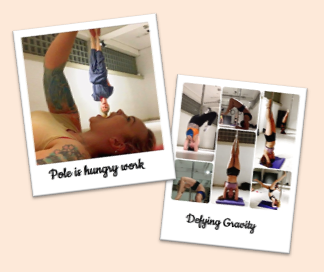 Work hard, play hard. Definitely what this year has felt like. I have had so much fun, I've met so many beautiful souls and have been blown away by people's determination, courage and commitment. Truly outstanding. To celebrate The Pole Studio's 1st birthday, we're putting on a showcase. With 2 group routines and 4 solo performances. I've also asked my sister-in-law to bake a cake. I cannot wait! So excited. Loads to celebrate this year. I am forever grateful to everyone who has contributed to this journey, and most of all to my students. This includes you too (if you've read this far!) Thank you. Here's to the next chapter! Much Love, xx